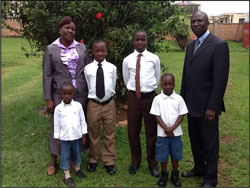 Juma & Flavia Misandi Numbi
Date Started: September 2006
Vision Statement
Greeting from Bujumbura-Burundi, where God has been good to us for another year.
We have been busy here on the capital of the small country around the Lake Tanganyika in Central Africa. How time flies.
Busy from the end of 2016, trouble in the middle but still strong.
We have been ministering here in Burundi exactly seven years, after Peter Dore (three years).
God has been faithfully bringing people into church, especially young men who train and disciple to do the work of the ministry.
The new year 2017 will be a year of more activities: continuously winning more souls for Christ by door to door outreaching, focusing in establish the couples, families and disciples to be a colon in the Church. Building a strong Church in faith for JESUS.
For that, we plan to have four times for Revival:
-February, Pastor from Kigali, Rwanda
-May, Pastor from Kenya
-August, Pastor from Zambia
-November, Pastor from Tanzania
We also believe God for our own land and our own church building and why not, make Burundi a conference center.
We are presently in need of a church: plant a baby Church. It is a very desperate need and we believe God for a miracle. Hey, the Church is pregnant, I think that they are twins ( Two news Baby Churches for this 2017). God has a couple ready in the church for ministry.
In spite of limitations of the government not to evangelize in streets, we shall continue our visits in the camps of refugees, and also the preaching's in prisons.
Pray for breakthrough at the level of finance of the Church of Burundi, Because we pass a difficult time financially.
We give all the glory to our God for his wonderful blessing and grace.
We take also this opportunity to say thank to Pastor Warner, his Wife Mona and the Tucson congregation for the great support and Pastor Alvin smith and Into–Africa for their support and for upholding us in prayer.
Please continue praying for Burundi for revival.
Pastor Juma and Flavia Numbi