OUAGADOUGOU, BURKINA FASO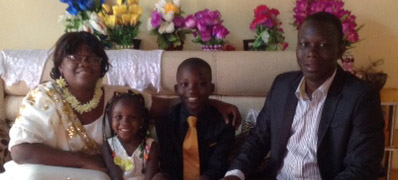 Vision Statement
Blessed be our Lord Jesus Christ who through the power of his word causes his Church to grow a little more each day in Burkina Faso. The Church is doing fine and keep on moving in revival so as to raise a new generation of leaders in this nation, capable of taking on the baton of ministry. The power of God is able to break Islamic and cultural challenges and even transform stony hearts.
In 2016, we baptized ten people. Even though that seems small, it is a real encouragement for an Islamic nation, such as Burkina Faso.
I have a dream of making flowers flourish in the desert. I see the opportunities of how God can reveal himself in this Islamic and traditional nation.
Our vision and prayers for the year 2017 is to strengthen the new converts and a financial miracle so that at the end, our prosperity in other areas of the church will be seen and felt even as our soul prospers.
I am very encouraged by the leadership of Pastor Warner and Pastor Smith. Thank you for your prayers and may God bless and fill you more.
Pastor Vincent and Raymonde Deo